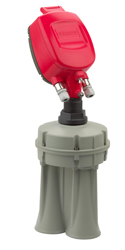 The 3D Level Scanner uses non-contact, dust penetrating technology to create a visual map of the material surface in storage and process bins. It measures the material surface at multiple points to accurately calculate the volume and mass, even in conditions where the material surface is highly irregular. The 3D Level Scanner operates at extremely low frequencies, allowing it to penetrate through high moisture and dust with very little loss of signal power. The processor obtains signals based upon the estimated times of arrival and direction of received echoes, and generates a 3-dimensional image of the surface that can be displayed on a remote screen. Whereas most technologies measure with a single point time-of-flight, the 3D Level Scanner uses both time-of-flight and direction using three independent channels to transmit and receive which enables it to make highly accurate measurements.
The 3D Level Scanner can work in small to very large bins and can measure up to 200' tall and 150' wide. It is versatile and can accommodate a wide variety of vessels or containers including open bins, bulk storage rooms and warehouses. The 3D Level Scanner is offered in three models –'S' for single point level measurement, 'M' which adds mapping capabilities, and 'MV' with both mapping and visualization graphics tools – for flexibility for any application and budget.
Suited for most powder or bulk solid material, it is proven to perform in coal, cement, aggregates, flyash, chemicals, fertilizers, food, grain, plastic pellets and powders. Any industry requiring accurate, non-contact measurement technology will benefit including feed, grain and seed; cement, aggregates and concrete; fertilizer; milling and food manufacturing; biofuels and ethanol; chemicals and pharmaceuticals; plastics manufacturing; power; mining and quarries; paper and wood pulp; primary metals and power.